Come travel with us!
We cordially invite you to pack your project bags and join us as we explore the many inspiring and colorful corners of the globe! Discover, learn, and become inspired by our destination themed quarterly WanderKnit™ packages.

Each package includes an assortment of items such as a themed button, project tag, destination-inspired patterns, a tasty treat, and a colorful brochure filled with location-centric facts. A custom WanderKnit™ tote bag featuring a map of the world will also be provided for your maiden voyage. Commemorate each destination by sewing your button to your tote bag's map; the more you travel with us, the more buttons will adorn your bag!

Discover
Learn about a new destination on the world map through facts, fiber, & food.
Travel
Mark your journey on the tote bag map with the destination-themed button.
Make
Get creative with our collection of patterns inspired by each location.
Welcome to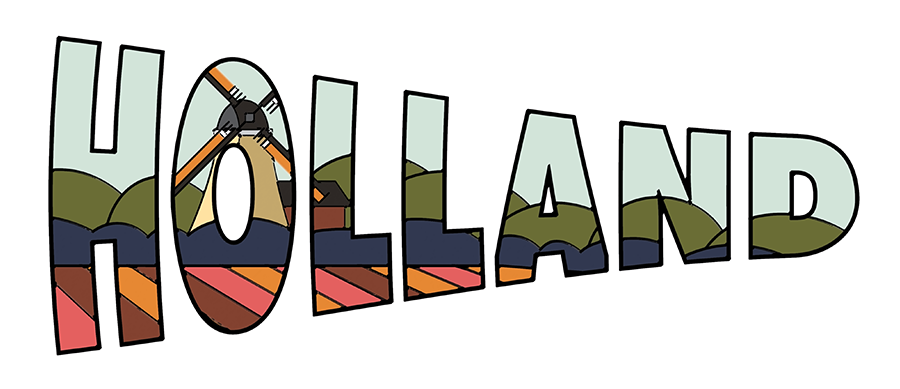 Our inaugural WanderKnit™ package will take you on a journey through historic Holland; the land of springtime tulips. The supporting hat, cowl, and pillow patterns were inspired by Tanis Gray's recent stranded colorwork tulip design and have been specially paired with our popular Simplicity by HiKoo® yarn.

Learn more below!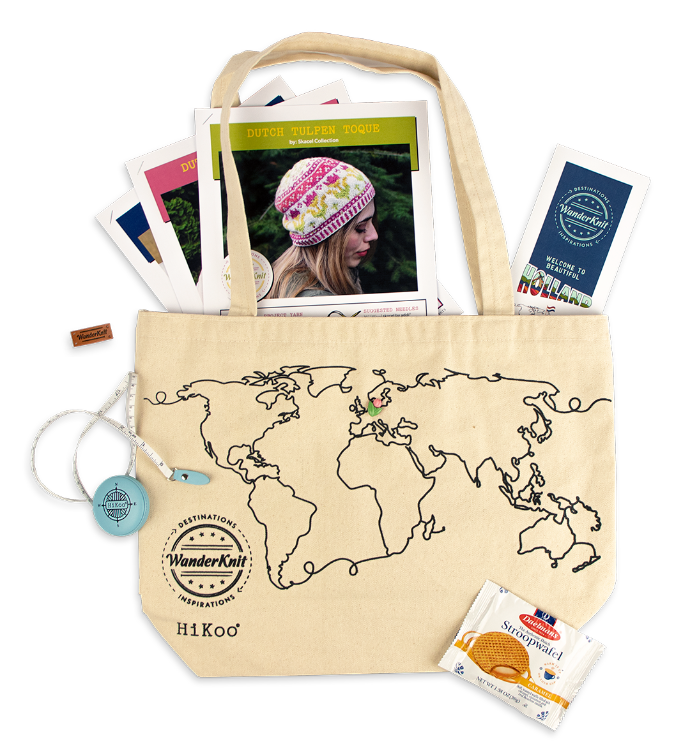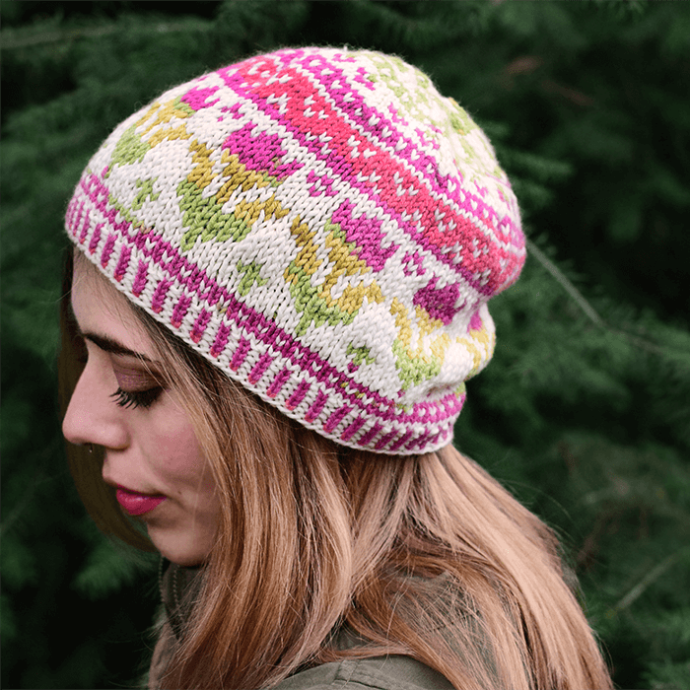 While knitting with HiKoo® Simplicity solid and multi, you'll have the opportunity to pick the flowers just to your liking!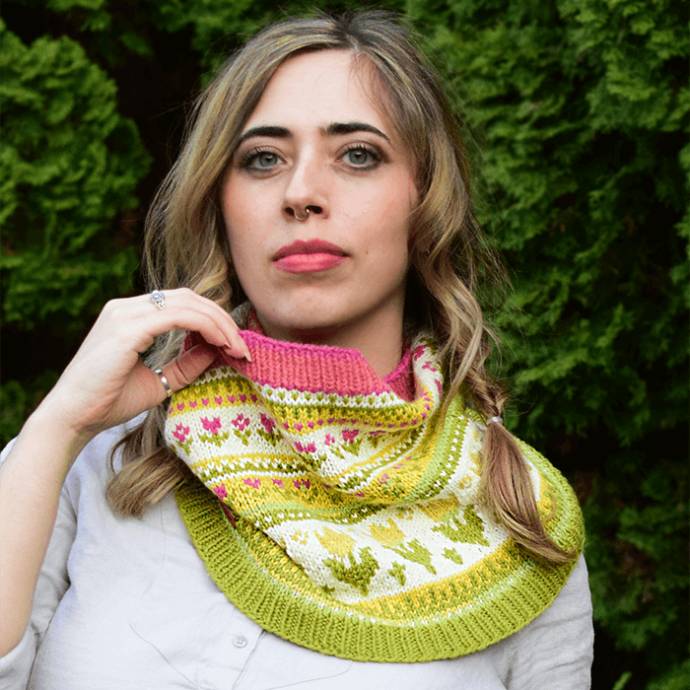 Tulip season can be all year-round in this cozy cowl with HiKoo® Simplicity. Marvel at the garden that blossoms stitch by stitch!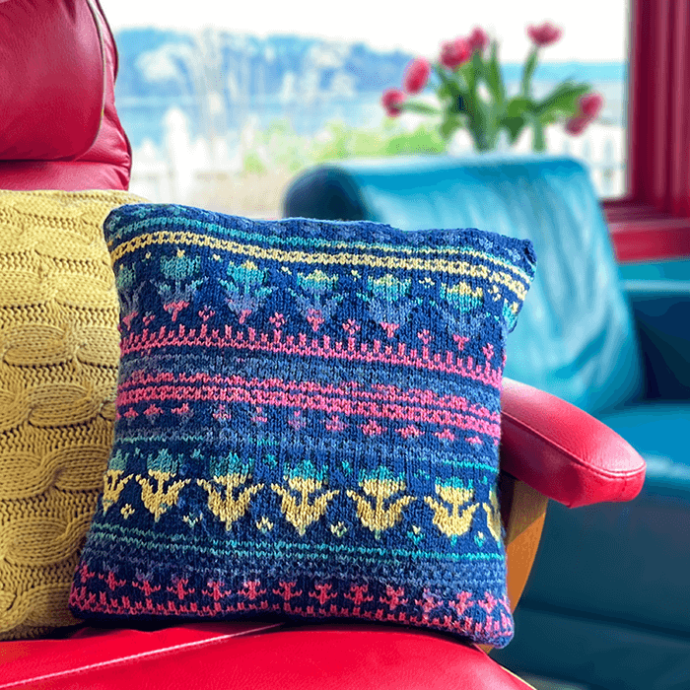 This cheerful tulip field colorwork cushion is knit in the round with an inner and outer ribbing in HiKoo® Simplicity.
The Spring 2022 destination package includes...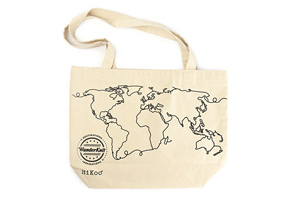 World Map Tote (1)
To hold your WanderKnit™ projects. This 17.5" x 13" tote features a world tied together in one strand.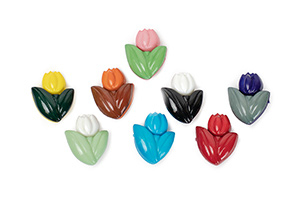 Tulip Button (1)
Sew your colorful button onto your tote bag to mark Holland's location on the map.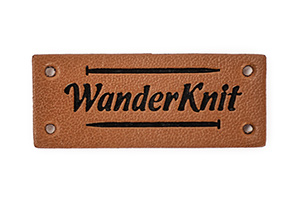 WanderKnit™ Project Tag (1)
Sew this onto your completed project then share it on social media with #WanderKnit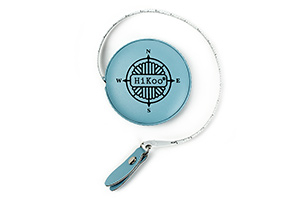 HiKoo® Tape Measure (1)
A helpful tool to have on hand. Includes 5 feet of measuring tape with inches and centimeters.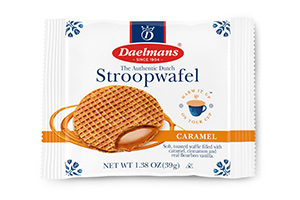 Stroopwafel (1)
A sweet little snack, stroopwafels were first baked in South Holland in the early 19th century.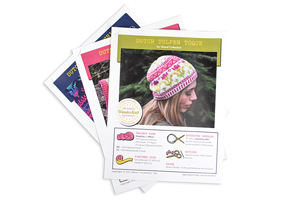 Holland Themed Patterns (3)
Inspired by the tulip fields of Holland, these three patterns harmonize beautifully together.
Visit the participating WanderKnit™ shops below to secure your spot on this exciting voyage!